Mama's Great premium quality knives for the kitchen are the result of years of research and consultations with Chefs, Blacksmiths, Knifemakers, and Steel factories. We took all the best qualities of the big brand knives on the market, optimized production, and made premium quality knives affordable for everyone.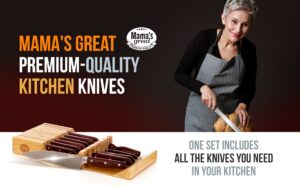 8 inch Chef's Knife
Chef Knife is perfect for everyday use. The curved blade allows it to rock on a chopping board, making it the perfect tool for chopping or dicing, and the broad heel area enables it to stand up to more pressure during heavy-duty work. When chopping large quantities of vegetables, or cutting thick or hard food, this is your tool.
7 inch Fillet Knife
Fillet Knife has a slim and flexible blade that is perfect for removing bones from fish without damaging the delicate flesh. This knife helps you create perfect fillets as you cut around the backbone of a fish and also works well for trimming brisket.
10.5 inch Serrated Bread Knife
Bread Knife has a long blade and a sharp serrated edge. It is perfect for slicing through any type of bread. Due to the serrated blade, you can cut through both soft texture and extremely crusty loaves with ease, without damaging the crumb. This knife is also good for cutting tough-skinned fruits & vegetables like tomatoes, eggplants, pineapples and melons.
5 inch Utility Knife
Utility Knife is great for chopping or cutting smaller foods and vegetables. It shares many of the qualities of our Chef Knife but allows for more precise mincing or cutting. When your chef knife is a little too big for the job, or the job needs more finesse, you'll want to reach for our utility knife.
inch Paring Knife
Paring Knife has a short blade, which makes it easy to maneuver. It is great for delicate tasks like peeling, trimming, and removing seeds from fruit and vegetables.
Set of 6 – 5 inch Steak Knives
Steak Knife is a table knife that has a serrated edge and sharply pointed tip. This is the perfect tool at the table for any meat dish served.
8 inch Honing Steel
Honing Steel helps straighten and align metal fibers on the knife's edge that get bent during the cutting process. Without honing, your knife's edge will eventually become dull. To extend the time between sharpening sessions, hone your knives every 2-5 uses.
Mama's Great Knives are best honed at a 15 degrees angle, honing both sides of the blade 5-10 times. Remember to wipe the blade with a soft cloth after honing to remove microscopic metal filings from the blade.
Bamboo In-drawer Knife Block
Bamboo In-drawer Knife Block helps you declutter your kitchen drawer or free up that valuable kitchen counter space. The knife tray also ensures that your knives stay sharp, as the blades are protected from coming to contact with one another.